Mohammed Abdul Karim
1863 – 1909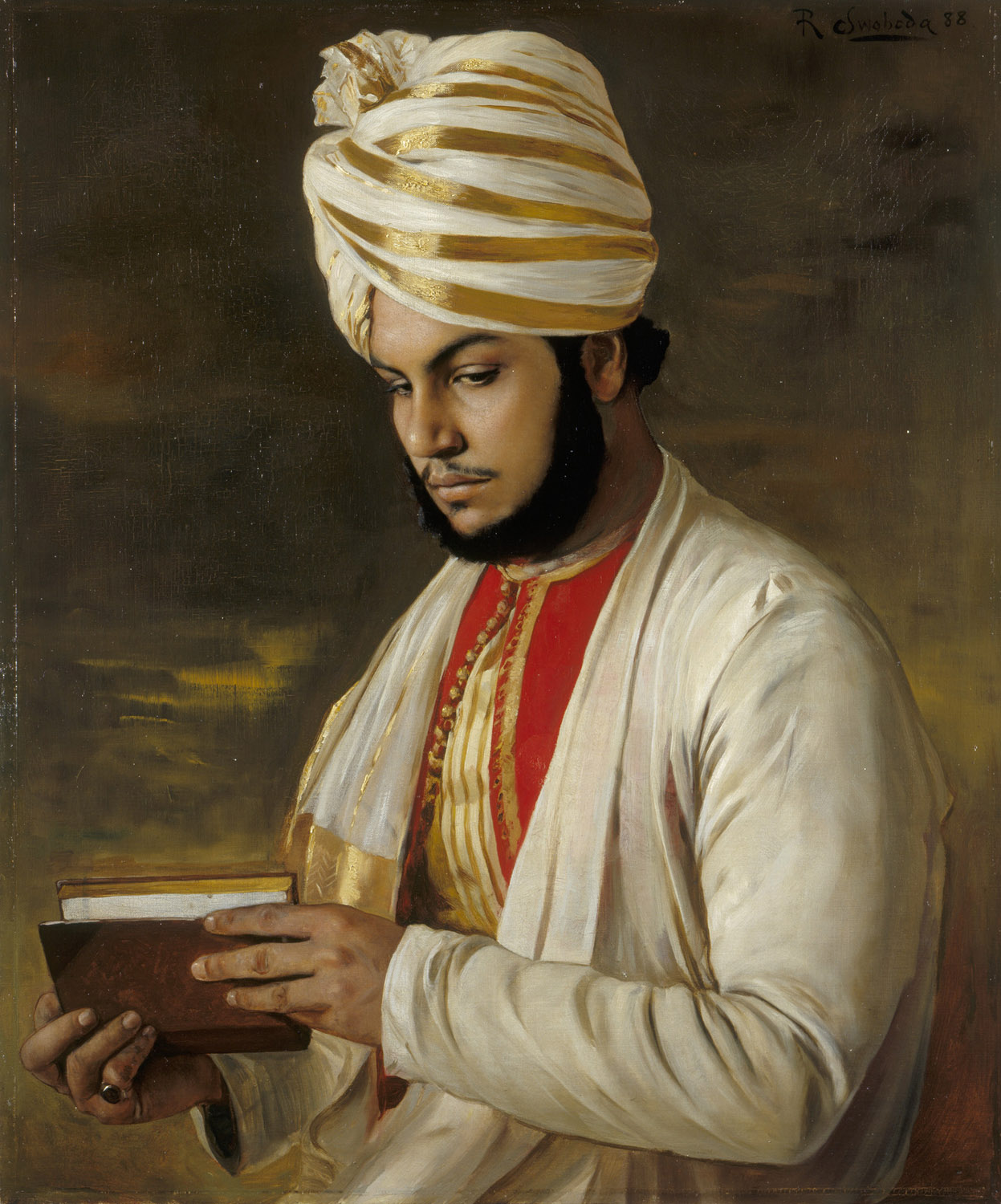 The Munshi with gold turban by Rudolf Swoboda (Wikipedia)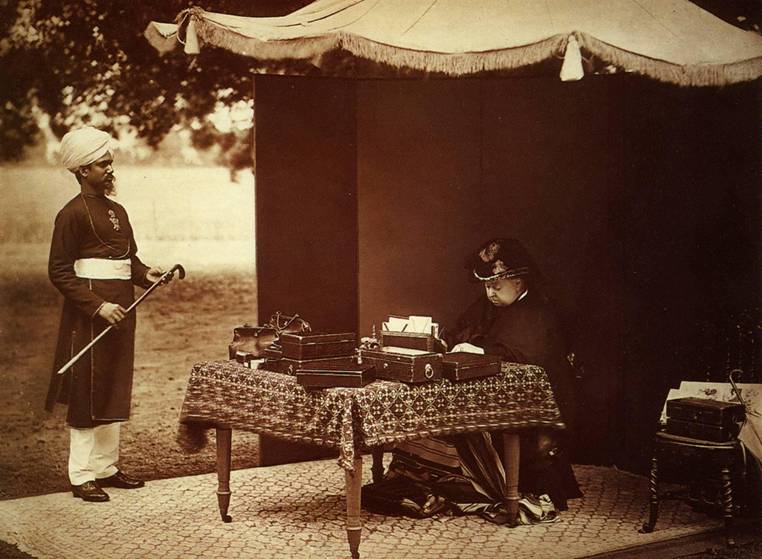 The Munshi attends Queen Victoria, 1893 (Wikipedia)
He was known as "the Munshi", (a Persian word loosely translated as 'teacher') and was an Indian attendant of Queen Victoria. He served her during the final years of her reign.
As Empress of India, Victoria requested two Indian servants, who would be employed for a year, for her Golden Jubilee in 1887. Abdul Karim was quickly taught English and sent to Britain, along with another man, Mohammed Buksh. It was suggested that the two men would wait at the table and learn to do other tasks.
On 3 August 1897, she wrote: "I am learning a few words of Hindustani [Urdu] to speak to my servants. It is a great interest to me for both the language and the people, I have naturally never come into real contact with before."
On 20 August; Karim impressed the monarch by cooking her chicken with dahl and pilau, which Victoria described as "excellent curry."
By 30 August Karim was teaching her Urdu.
Victoria quickly promoted him to 'Munshi and Indian Clerk to the Queen Empress' for a monthly salary of 12 pounds. He was later promoted to a highly decorated secretary. Karim was married and expressed his desire to return to Agra to be with his wife, Victoria invited Karim's wife to join him in his home at Arthur Cottage.
By 1893, Victoria was sending notes to Karim written in Urdu. She would sign off her letters to Karim as "your affectionate mother, VRI" or "your truly devoted and fond loving mother, VRI".The relationship between Karim and the Queen led to friction within the Royal Household, who felt themselves to be superior to him. The Queen insisted on taking Karim with her on her travels, which also caused arguments. "I am so very fond of him," Victoria wrote. "He is so good and gentle and understanding . . . and is a real comfort to me."
Karim asked Victoria for the title of 'Nawab', the Indian equivalent of a Knighthood, which would make him 'Sir Abdul Karim'. The viceroy suggested instead that she make Karim a Member of the Royal Victorian Order (MVO), a personal gift, but no real title.
The Munshi went to India in 1899, returning to Osborne in November 1900 Victoria had visibly aged, and her health was failing. Within three months she was dead.
Following Victoria's death in 1901, her successor, Edward VII, returned Karim to India and ordered the destruction of the Munshi's correspondence with Victoria. However, Edward did allow the Munshi to be the last person to view Victoria's body before her casket was closed and to be part of her funeral procession.
Funded by the
East Cowes Community Partnership