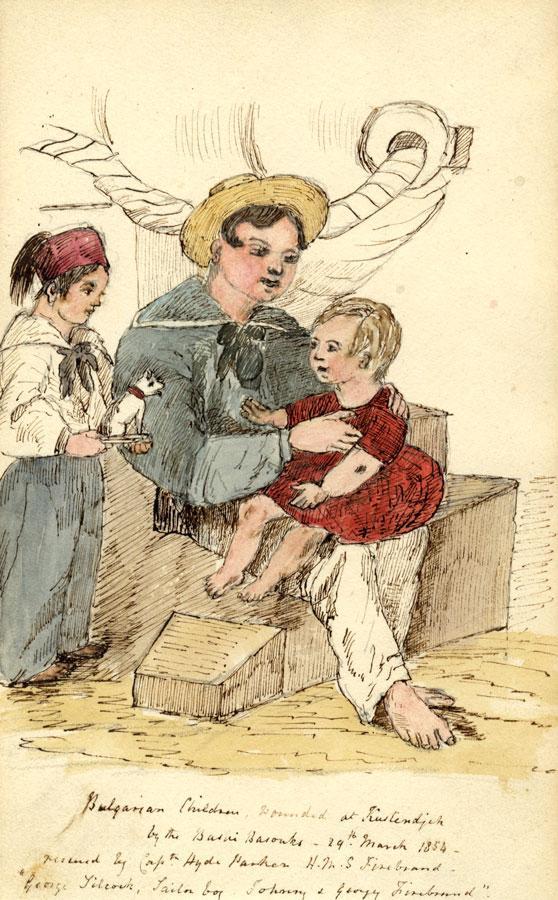 Bulgarian Children, wounded at Kustenjeh by the Bashi Basouks [Ottoman Soldiers] – 29th March 1854 – rescued by Captn Hyde Parker H.M.S. Firebrand. "George Silcock, Sailor boy, Johnny & Georgy Firebrand.
During the Crimean War of 1854 sailors ashore from HMS Firebrand found two small boys lying injured beside their dead parents after a battle at Kustenjeh, Bulgaria. [now Constanțsa, Romania.] Dr O'Hagan, the ship's surgeon described the two children as "one about nine months and the other four years old. Their parents had been killed and they themselves grievously wounded, the elder having been shot five times through the shoulder and elbow joint and the infant a pistol ball through the wrist." They took the boys on board ship, where Captain Hyde Parker adopted them. They became favourites with the officers and ship's company. The children were christened John and George Firebrand and were on board for two more battles at Sebastopol, where sadly Captain Hyde Parker was killed in action. 
The Queen became aware of the incident and announced her wish to take the infants under her wing. They were the same age as her youngest boys, Arthur and Leopold.  As soon as the boys arrived, the Queen went straight over to see them.  Despite having the scars of five bullets in his right arm, the Queen described Johnny as, 'very merry and intelligent and speaks English perfectly.' She described little Georgy as 'delicate and gentle,' and drew sketches of the boys on several of their visits. They lived with Mrs Jackman, at Barton Cottages, but frequently visited Osborne House and the Queen often called in at Mrs Jackman's. The boys were allowed licence beyond the norm. When one of them stole her parasol and galloped off using it as a hobby horse, the Queen just laughed! 
In 1857 the Victoria noted, "The little Bulgarian boys look so grown and nice". They were renamed John and George Hyde and remained with the Jackmans until they joined the Navy.
Jackets belonging to the two boys are on display in the Swiss Cottage at Osborne.
Funded by the
East Cowes Community Partnership